Pornomedy
The most fun you can have with porn. In public.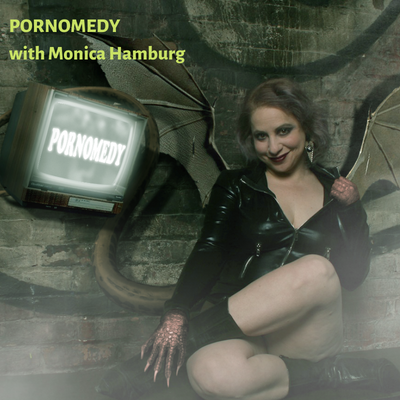 Podcast

Monica Hamburg and her guests discuss absurdities Monica's found on free porn sites: Terrible titles users give the clips, confounding tags, absurd comments - and much more!

Listen here


Live Show
Monica Hamburg's comedy panel show has comedians riffing on the weird world of porn - with screenshot of the strangeness.
Uploaders delude themselves with misleading tags, unhelpful titles, online arguments about user-created animated fuck oevres - and much, much more!

We'll have some shows in 2023!



Most recently Pornomedy was at:

At Ottawa Comiccon - 2 nights!
Friday, Sept 9th, 2022 - 8:30pm - Meeting Room D
Saturday, Sept 10th, 2022 - 7:45pm - Meeting Room D
With great guests: Christabelle Witt, Dawn Xanklin & Rob Aaron Morgan

& We had a full house at Montreal Comiccon 2022 - with the Hentai Edition! Saturday July 9th, 2022 at 7:45 pm (Room 516) At: Palais des congrès: 1001 Place Jean-Paul-Riopelle (at Place-d'Armes métro station. Hilarious Panel Guests: Hentai expert, Andrew Cardazzi, of the Otaku Comedy Show + Mariam Khan,and more!
---
(Previous shows:

- Friday October 22nd, 2021 at 8pm.
Freestanding Room (Sold out)

Also popular at:
- 2019 Montreal Comiccon (Montreal)
- 2019 Fringe After Dark (Montreal)
- 2019 Festival De La Bete Noire (Montreal)
- 2018 "New Forms Festival" (Toronto)

Pornomedy.net

​Online shows - on YouTube

(Photo above: by Kathy Slamen)

See examples of the kind of hilarity you'll see on Monica's Instagram: (@monica.hamburg)

Pornomedy originally premiered at the Festival of New Formats, Toronto 2018.